Buffer Vs Hootsuite: Which Is The Better Social Management Tool In 2023?
In today's post, I've reviewed and compared two of the most popular social media management platforms – Buffer and Hootsuite.
Both tools share the same posting and social media account management features, but there are certain areas where each of these tools shines.
So, who wins this Buffer vs. Hootsuite battle?
The answer is – Hootsuite.
Hootsuite is an incredibly powerful and feature-rich social media management solution designed for big companies and agencies managing tons of social accounts.
However, if you are an individual blogger like me, you'll find that Buffer offers the best tools at an affordable price. Even the free version of Buffer offers basic features that can help you manage your social media accounts and grow your online presence.
I've spent hours researching the main features of these two social media management tools and have come up with an in-depth, unbiased review and comparison of the two.
In today's post, I will compare Buffer and Hootsuite and give you my honest reviews of each so that you can choose for yourself which one is the better social media management platform for your online business.
Let's dive in!
Disclaimer: If you buy something using the links in this article, I may receive a commission at no extra cost to you. Know that I only promote stuff that I use and trust for the sake of my readers and the reputation of this website.
Why Do You Need A Social Media Management Tool?
46 – 70% of social media users, use social media sites daily. It's no wonder why every company wants to have a social media presence to connect with its audience.
As a social media manager, you know that it's not enough to have one social media channel for your company if you want to grow your online presence fast. In fact, most companies have a team of social media marketers that work to extend their reach across various social platforms.
Managing multiple social media accounts is not simple if you manage them through their native interfaces. Hence, the need for social media tools that offer social media managers the convenience of managing all the social accounts through a single dashboard.
Recommended Reading:
HOW MUCH DO SPONSORS PAY YOUTUBERS? GET PAID YOUR WORTH!
REACH VS. IMPRESSIONS: WHAT'S THE DIFFERENCE AND WHICH MATTERS MORE?
HOW TO BECOME AN INFLUENCER – THE ULTIMATE GUIDE FOR BEGINNERS
Comparison of Both Social Media Management Tools
1. Pricing
Hootsuite Pricing
Hootsuite offers a limited free version that offers users 2 social accounts, 5 scheduled messages, and 1 user.
Hootsuite's paid plans are as follows:
A. Professional Plan – $29 per month, billed annually
Ideal for small businesses and entrepreneurs
One user
Manage 10 social accounts with one password
Bulk scheduling feature lets you schedule multiple posts at the same time
Tracking and analytics in real-time
Unlimited RSS integrations
B. Team Plan – $129 per month, billed annually
Ideal for small to medium businesses who want to grow their social media presence
Up to three users
20 social accounts
Everything that comes with the Professional Plan
One custom branded URL
Custom analytics reports
Three Hootsuite platform certifications
C. Business Plan – $599 per month, billed annually
Ideal for big businesses and agencies
Up to five users
35 social accounts
Everything that comes with the above plans
Add on unlimited users
Five custom branded URLs
Approvals before publishing
Content library
Five Hootsuite platform certifications
D. Enterprise Plan – Custom pricing
Ideal for large companies and enterprise users
All features in the above plans
The Enterprise Plan can be customized according to your business needs
All paid plans allow you to schedule unlimited posts and access messages in a single inbox.
Buffer Pricing
Buffer also has a free version that allows you to set up 3 social accounts and 10 scheduled posts per channel. The free plan offers basic publishing tools and a landing page builder.
Buffer's paid plans offer a 14-day trial:
A. Essentials – $5 per month per social channel
Unlimited social channels at $5 per month per channel
Unlimited scheduled posts per channel
Automatic as well as custom link shorteners
Multi-channel campaigns to track your related posts and optimize them
Instagram stories scheduling and tagging
Individual post analytics and reporting
Hashtag performance
Audience demographics
Important comment detection and easy account switching
B. Team – $10 per month per social channel
Unlimited social channels at $10 per month per channel
All the features in the Essentials Plan
Unlimited users
Team management features for a smoother workflow
Winner: Buffer
2. Supported Social Media Accounts
Both Hootsuite and Buffer support almost all the social media platforms and offer the same functions. However, Buffer falls a bit short as it does not offer social media management tools for YouTube.
Hootsuite
Hootsuite helps you manage social media accounts on the following social media networks:
Facebook
Instagram
Twitter
Pinterest
LinkedIn
YouTube
WordPress
Buffer
Buffer offers multiple tools to manage social accounts on every platform except YouTube and WordPress, making Hootsuite the clear winner of this round.
Winner: Hootsuite
3. Scheduling and Posting
The publishing and scheduling tool for both Hootsuite and Buffer allows you to schedule posts to grow your social media presence on auto-pilot. Both tools make scheduling content on your Instagram accounts or Facebook pages a breeze, allowing you to focus on more important aspects of your business.
Both tools also allow ad hoc posting, so that you can post directly from your browser as you consume content.
Hootsuite Scheduling And Posting
Customize your social posts and schedule them manually
Auto-schedule your posts at the best scheduled time
You can save drafts of your incomplete social media posts
Publish syndicated content from RSS feeds and blogs
The free version allows for only 30 scheduled posts on your social media profiles
You can view and schedule posts for only a week at a time
Ad hoc posting from a Chrome plugin
Buffer Scheduling And Posting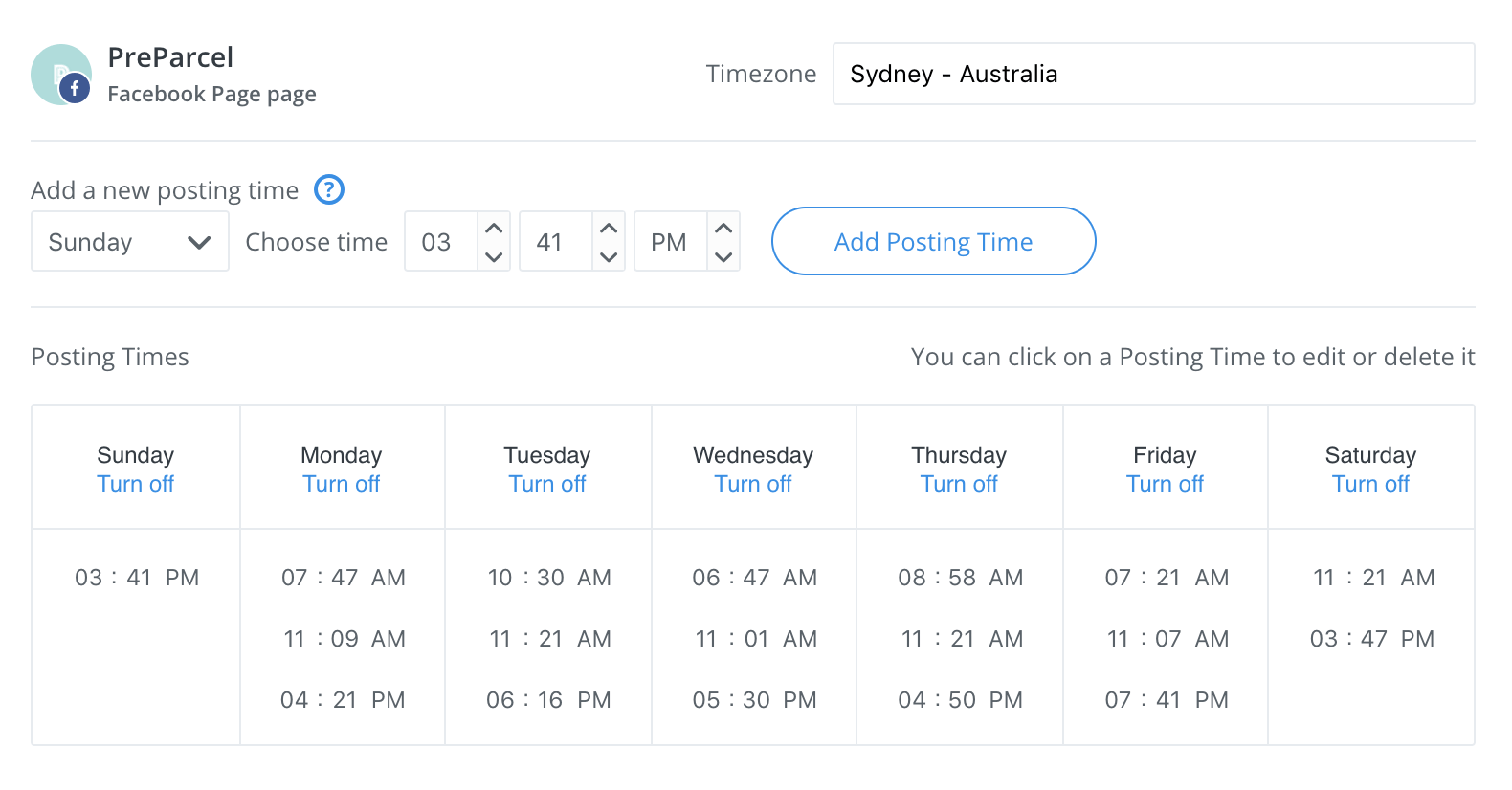 Buffer Queue allows you to customize and schedule your posts
Schedule posts more than one month in advance
Add images and emojis to your posts
The free version allows you to post 10 scheduled posts for each social media account
Buffer also offers draft and preview functions, but only for its paid plans
Simple ad hoc posting from the Chrome plugin. Just click to post and Buffer will add it to the queue.
Winner: Buffer
4. Dashboard Experience
When you compare the user interface of Buffer with Hootsuite, you'll find that Buffer's dashboard is extremely intuitive and easy to use, even for beginners.
Hootsuite has a much more complicated dashboard, which is due to the fact that it has many more features to support when compared to Buffer.
Hootsuite
User-interface is a bit more complicated due to the many features and capabilities packed into it
Steeper learning curve
Follow your social media feeds and track mentions easily
Customizable dashboard
Buffer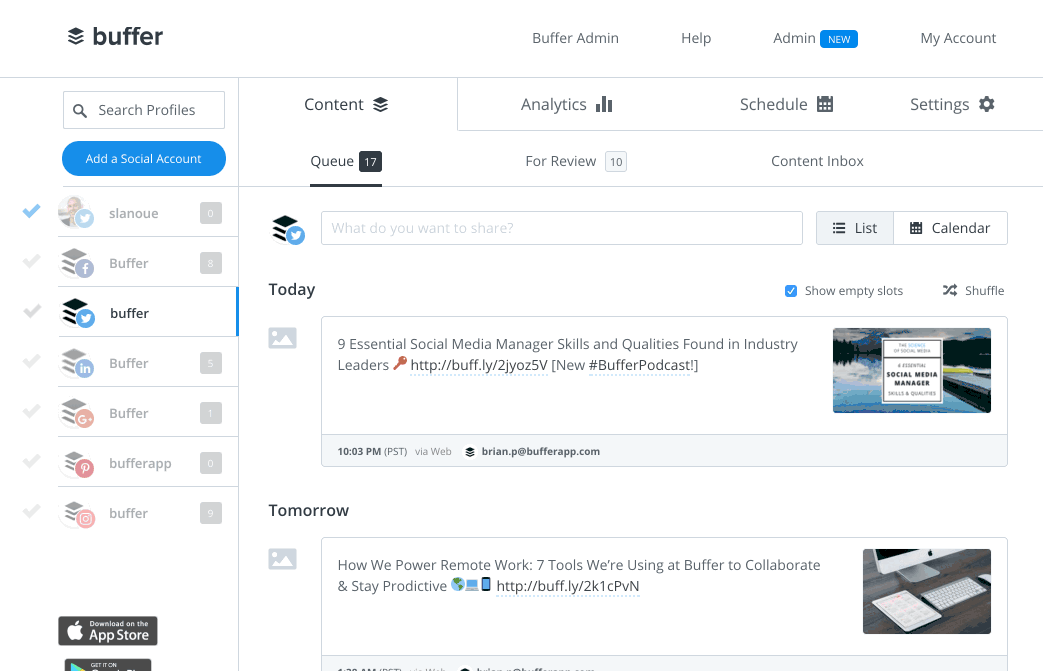 Simple, minimalistic dashboard
Buffer Queue shows you all the currently scheduled posts
Easy for beginners to use
Intuitive dashboard
Winner: Buffer
Recommended Reading:
HOW TO MAKE MONEY ON TIK TOK – 7 PROVEN WAYS TO BE SUCCESSFUL ON TIKTOK
HOW TO SELL ON FACEBOOK – THE ULTIMATE GUIDE TO SUCCESSFULLY SELLING ON FACEBOOK
HOW TO GROW INSTAGRAM FOLLOWERS ORGANICALLY: 21 SIMPLE & AWESOME WAYS
5. Team Management
Both Hootsuite and Buffer offer great team collaboration and management tools to help smoothen your workflows if you have a big team.
From what I understand, Hootsuite is more suited for larger companies with big marketing teams, while Buffer is perfect for smaller organizations and teams.
Hootsuite
Suited for larger companies
Create separate individual profiles or group profiles
Content approval system with different permissions for publishing and approval
Buffer
Suited for smaller teams
Offers permission-based publishing (Contributor and Manager profiles)
Content approval is straightforward allowing users to draft, approve and publish content depending on the permission granted to them
Winner: Tie
6. Paid Promotions And Advertising
Paid promotions and ads (such as Facebook Ads) are two things you would need to invest in if you want to scale your marketing efforts.
The more social media accounts you have, the tougher it is to manage and optimize your paid marketing efforts. For starters, you would have to switch between multiple dashboards if you are using the native advertising dashboard for each social platform.
Hootsuite offers a unified dashboard to manage all your paid social media campaigns called Hootsuite Ads. Buffer, however, does not provide this feature.
Hootsuite
The social media management tool helps you manage all your paid social media campaigns from a single, unified dashboard
Buffer
No feature to support advertising and paid promotion functionalities
Winner: Hootsuite
7. Conversation Management
To keep your audience engaged, you need to track comments and responses on multiple networks and reply to them.
Both Hootsuite and Buffer offer conversation management features so that you can do this with ease.
Hootsuite
Hootsuite has these features built into the tool (called Hootsuite Streams) so that you can manage all your social networks from a single dashboard.
Keep track of comments and messages in real-time.
The free plan also offers these features.
Buffer
Buffer offers a separate app called the Buffer Reply app that helps you manage social conversations, but the Pro plan is pretty expensive ($50 per month per social account).
Assign conversations to individual team members.
Keep track of responses in real-time.
The free plan is for individuals and offers limited features.
Winner: Hootsuite
8. Tracking and Analytics
Tracking, analytics capabilities, and reporting features are crucial if you want to understand what works with your audience. This will help you optimize your social media strategy.
Hootsuite
Hootsuite gives you all the basic reporting and social analytics features on the free plan
The Pro Plan offers real-time reporting and engagement metrics for individual posts, along with the basic analytics features
The Enterprise Plan offers all the above plus team-wise performance reviews
Buffer
Buffer helps you analyze the posts that you publish through its interface
The Buffer Analyze app gives you metrics like your reach and engagement for each post
Winner: Hootsuite
9. Third-party app integrations
Sometimes, third-party app integrations are important if you want the best from your social media campaigns. This is especially true of larger companies.
Both Hootsuite and Buffer allow third-party integrations, although Hootsuite has a longer list of integrations that make the content management process smoother.
Hootsuite
Hootsuite offers a long list of third-party application integrations like HubSpot, Google My Business, Panoramiq Insights, Synapview, Canva, Shopview for Shopify, Spotify, Trufan, Slack Pro, and more.
Buffer
Buffer also offers many third-party integrations like Canva, Zapier, IFTTT, WordPress, Feedly, Automate.io, and more.
Winner: Hootsuite
10. Customer Support And Training Resources
When it comes to customer support, both Buffer and Hootsuite have highly responsive customer service teams to resolve your queries. However, Hootsuite has a live chat feature that cuts the response time down and offers quicker query resolution.
Buffer offers multiple training resources on its website but Hootsuite wins in this regard with its Hootsuite Academy that offers users free and paid social media marketing courses.
Hootsuite
Hootsuite offers customer support through live chat and its social media channels
Hootsuite Academy offers users free and paid social media marketing courses, some of them with certificates
Buffer
Buffer offers customer support through email, Slack, and Twitter
Buffer's training resources are on its website in the form of blog posts, FAQs, online tutorials, webinars, and training guides.
Winner: Hootsuite
Buffer Vs. Hootsuite: Which One Do I Recommend?
I hope you found this Buffer vs Hootsuite review helpful.
Although Hootsuite and Buffer have almost comparable features, each one is specifically designed for different types of users to publish scheduled posts on multiple social media platforms.
So which one do I recommend?
Hootsuite is by far the winner of the two – with features built for large companies and agencies.
You can click here to set up a Hootsuite account.
However, if you are a small business or a blogger, then Buffer would serve the purpose well. Click here to get started with Buffer.
Hootsuite vs Buffer – which social media management tool do you use for your business and why? Leave a comment below and tell us!